In a true shakeup,  Hasbro has announced today that starting immediately you can visit http://www.votemonopoly.com and choose a whole new set of Monopoly tokens for the classic game.  There are 64 choices including the 8 current silver tokens (Car, Hat, Thimble, Dog, Cat, Ship, Wheelbarrow, Hat) and 56 new gold tokens from 8 different categories to choose from.  The 8 tokens with the most votes on January 31st will replace the current set in the game.
1998 was the first time a vote was used to choose a new token, when the Moneybags were added to the game (they were removed in 2007)  Then in 2013 the Cat was voted to replace the Iron.  Now is your opportunity to replace the entire set!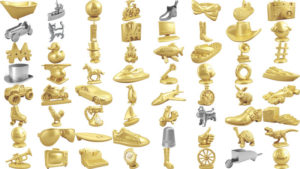 A special edition Token Madness Monopoly is currently available (MSRP $19.99) that includes the 8 current tokens, and 8 of the new tokens.  One representing each of the 8 categories.  A deluxe edition containing all 64 tokens will be available (MSRP $69.99) later in the year.